Hilot (Wellness Massage) NC II is one of courses offered by the Technical Education and Skills Development Authority, a training program that helps you gain knowledge in proving pre massage service to patients, customers,
Some core competencies you will learn in this program are, proper implementation and infection control guidelines, an immediate response for an effective result in certain behavioral issue, proper application of First aid materials, scheduling/ planning the Hilot wellness procedure, providing a good result and experience for the customer/ patient, proper application of massage techniques and post services for the customers/ patients.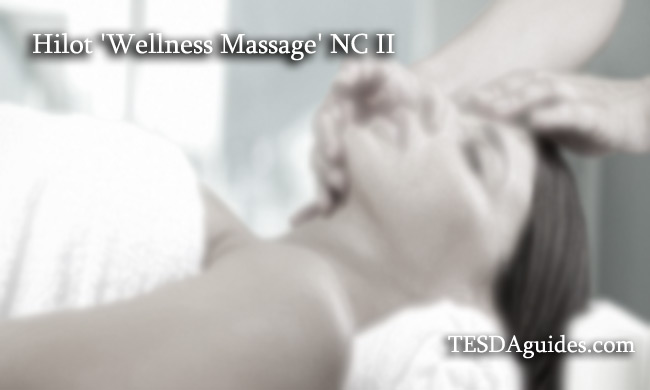 Course duration (Training time that will be consumed): Hilot (Wellness Massage) NCII takes 120 hours to finish.
Requirements to apply as a Course Trainee:
1. Certificate of Birth (NSO copy)
2. Academic Record (High school Diploma)
3 .Good Moral Character Certificate or Honorable Dismissal
4. 1×1 or 2×2 Photo ID (for record purposes)
Requirements may depend on the Training Institution you want to enroll. Feel free to contact them to gather more information regarding the course.
Hilot (Wellness Massage) NC II assessment passers/ Certified may work in any field related like:
Physical Therapist, commonly hired for person who went from a traumatic accident.
Massage therapist which is commonly being offered to the Elderly, you can also work in Wellness centers locally and internationally, please feel free to contact POEA (Philippine Overseas Employment Administration) to have a list of legitimate employers.
Trainees who undergo in the field of Hilot (Wellness Massage) NC II needs to take an examination before working independently or taking the opportunity to be an OJT in the Company that will be assigned for you.