Auto Engine Rebuilding NC II is one of courses offered by the Technical Education and Skills Development Authority, This program will train and guide you to the proper process of restoring a worn out or defective parts of an engine to their smooth and immaculate condition, proper application of sealant in damaged parts of the vehicle, proper positioning of the vehicle, calculation and measuring process, proper application of engine lubricant or coolant.
Additional knowledge will be basic shop/ workplace maintenance, checking the engine by its manual or technical specification, proper engine disassembling, process and procedures in terms of pre-repair situation, proper usage of machine tools and equipment's, proper measurement with the parts, proper engine assembling.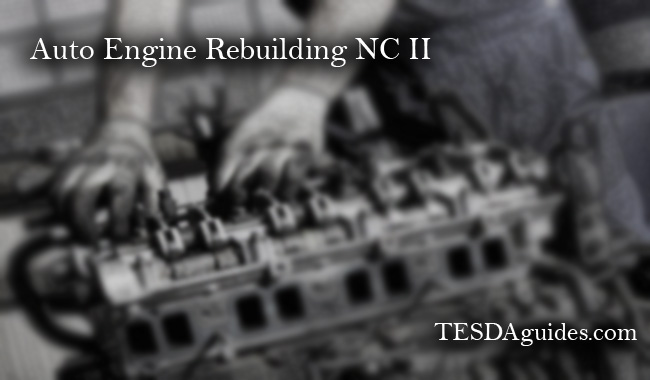 Course duration (Training time that will be consumed): Auto Engine Rebuilding NC II takes 158 hours to finish.
Requirements to apply as a Course Trainee:
1. Certificate of Birth (NSO copy)
2. 1×1 or 2×2 Photo ID (for record purposes)
3. High School Diploma
4. Police Clearance Certificate/ NBI Certificate
5. Barangay Clearance Certificate
6. Good Moral Character Certificate or Honorable Dismissal
Additional requirements may be requested from you depending on the Training Institute you will enroll. You may also avail the TESDA's scholarship program.
Job opportunities after the Program
You can apply as an Engine Rebuilder in any repair shop company; you can also apply as an machinist.
TESDA will help you find job related to your field, they may assign you to Vehicle manufacturing companies that will pay you good salary.
Auto Engine Rebuilding NC II trainees should pass the National Certificate Assessment to be certified.
This course is related to Automotive Servicing NC I.