Medical Transcription NC II is one of courses offered by the Technical Education and Skills Development Authority, this training program will train you the job responsibilities of a Medical Transcriptionist, some of its responsibilities are, providing a written/ encoded data from an audio transcription, proper usage of medical terms (terminology) to maintain a good process, basic computer literacy, application of company guidelines in your work, teamwork and leadership, following safety procedures.
Several Training Centers in the Philippines have a quality training techniques to help you learn more, and also they will help you find a company that suits your needs.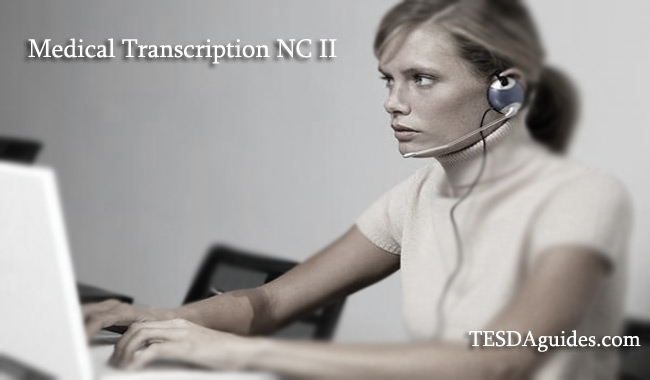 Course duration (Training time that will be consumed): Medical Transcription NCII takes 36 hours to finish
Requirements to apply as a Course Trainee:
1. Certificate of Birth (NSO copy)
2. Academic Record (High school Diploma)
3. Good Moral Character Certificate or Honorable Dismissal
4. 1×1 or 2×2 Photo ID (for record purposes)
5. Form 137
Some center offers on the job training for you when enrolled to their program. They also require additional requirements in order to get the OJT offer.
Job opportunities after the Program:
You may apply as a Medical Transcriptionist, your on the job training experience will help you and get hired faster in a company you wished to apply for. On the Job training may take up to 10 months depending on the Training Institution and Company agreement, you will also receive a daily budget for your daily needs.