Automotive Body Repairing NC II is one of courses offered by the Technical Education and Skills Development Authority (TESDA). This training program will help you to train yourself in some particular process related to body repair.
Some skills and techniques you will learn are, proper application of Adhesive and Sealant, proper positioning of vehicles, calculation and mensuration process, proper application of coolant and lubricant, proper preparation of vehicle for repair, body panel repairing, right process of damaged part replacement.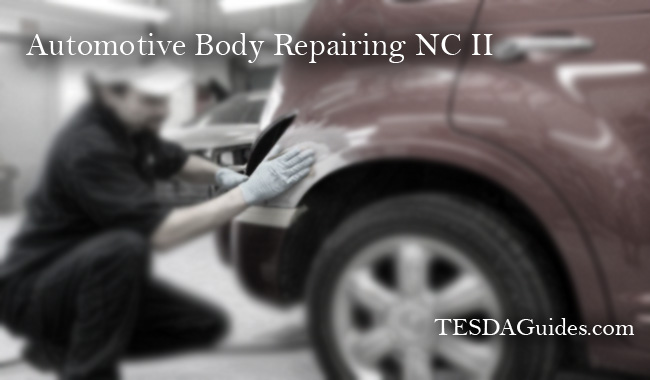 Course duration (Training time that will be consumed): Automotive Body Repairing NCII takes 118 hours to finish.
Requirements to apply as a Course Trainee:
1. Certificate of Birth (NSO copy)
2. 1×1 or 2×2 Photo ID (for record purposes)
3. High School Diploma
4. Police Clearance Certificate
5. Barangay Clearance Certificate
6. Good Moral Character Certificate or Honorable Dismissal
TESDA offers a scholarship program for people who are financially incapable. Additional requirements are required in order to avail the scholarship program. You may also inquire your Institution of interest to gather more information.
Job opportunities after the Program:
Automotive Body Repairing NC II assessment passers/ Certified may work in any field related like:
You can apply as an Automotive Body Repair Mechanic, automotive Body Repairer and Automotive Panel Beater, or you can accept the OJT program by TESDA, they will assign you in a company that is related to your field.
Automotive Body Repairing NC II trainees is required to pass the National Certificate assessment to avail the OJT program, the NC certificate and other things you need to apply directly to a company you desire to work.