Massage Therapy NC II is one of courses offered by the Technical Education and Skills Development Authority, a course that will guide you and have knowledge to perform, to provide a relief for your patient that is suffering from physical issue/ illnesses by means of Massage Therapy.
Some core competencies you will learn while in the training program are proper application of First aid (basic), interpersonal relationship with customer procedures, proper process of following of regulations, proper procedure and right planning for Therapeutic massage, implementation of different techniques of therapeutic treatment.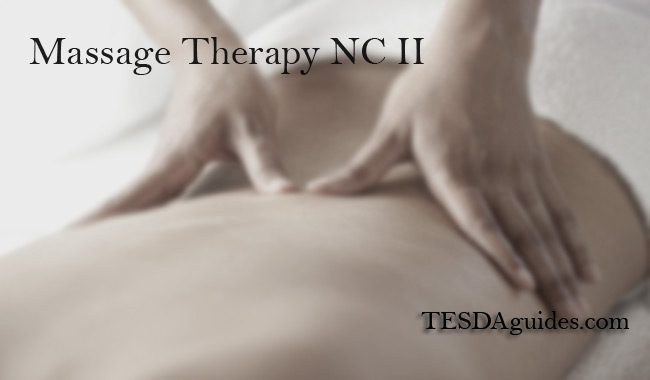 Course duration (Training time that will be consumed): Massage Therapy NCII takes 560 hours to finish.
Requirements to apply as a Course Trainee:
1. Certificate of Birth (NSO copy)
2. Academic Record (High school Diploma)
3. Good Moral Character Certificate or Honorable Dismissal
4. 1×1 or 2×2 Photo ID (for record purposes)
Job opportunities after the Program
Professional Massage Therapist, you can work local and international depending in your experience, some overseas employers requires 2 to 3 years' experience for those Massage Therapist who wants to work abroad.
Trainees who undergo in the field of Massage Therapy NC II needs to take an examination before working independently or taking the opportunity to be an OJT in the Company that will be assigned for you.
As far as we know, Technical Education and Skills Development Authority (TESDA) will guide you to find a stable work. Several companies look for Professional Massage Therapist with TESDA NC II certificate (Important requirement nowadays). Even well experienced Therapist do take the opportunity to have an assessment just to have the Certificate that also can be used in applying abroad.