Consumer Electronics Servicing NC III is one of courses offered by the Technical Education and Skills Development Authority. This is the continued training course of the CES NC II level. This course will help you to train CES maintenance Technicians and let them develop their skills in servicing capability.
You will also learn proper usage of electrical and hydraulic tools for your work, calculation and mensuration process, technical draft presentation and interpretation, computer operation (basic), electronic component servicing procedure and steps, disassembling and assembling CES products, repairing audio and video components, methods in repairing mobile phones, usage of appropriate PPE usage, proper usage of soldering iron, soldering pump, proper application lead in connecting components to PCB, learning mobile phone diagrams/ layouts, and safety awareness.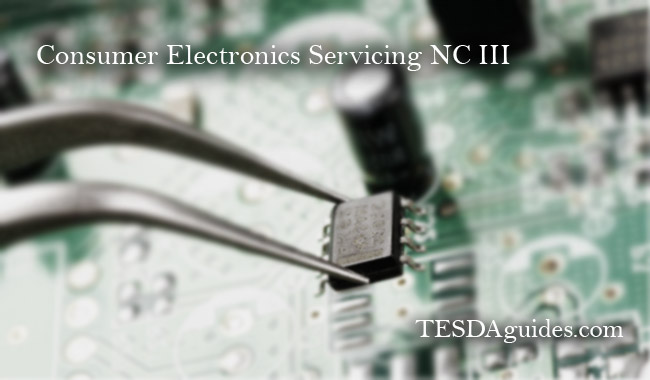 Course duration (Training time that will be consumed): Consumer Electronics Servicing NC III takes 156 hours to finish.
Requirements to apply as a Course Trainee:
1. Certificate of Birth (NSO copy)
2. 1×1 or 2×2 Photo ID (for record purposes)
3. High School Diploma
4. Police Clearance Certificate
5. Barangay Clearance Certificate
6. Good Moral Character Certificate or Honorable Dismissal
You are required to pass the NC II certification before applying in this course.
Job opportunities after the Program
Consumer Electronics Servicing NC III assessment passers/ Certified may work in any field related like:
You can take up TVET Trainer qualification NC I if you wish to work in TESDA/ Training Institution as a CES NC II Trainer, your responsibility is to train enrollees all basic and intermediate competencies offered in the NC II level, you will also train them about work ethics, computer operations, 5S principles, troubleshooting CES products.
You may also apply in Manufacturing Companies as a Production Operator or setup your own service center.