Consumer Electronics Servicing NC II is one of courses offered by the Technical Education and Skills Development Authority. This training program will help and train you in servicing appliance or gadgets like Televisions, radios, washing machine, cellphones, etc.
TESDA will also give you a chance to learn PCB components such as resistors, diodes, led, capacitors and relays. CES NC II will also teach you to distinguish resistor color and their voltage resistance, plus some theoretical information about electronic principles like ohm's law.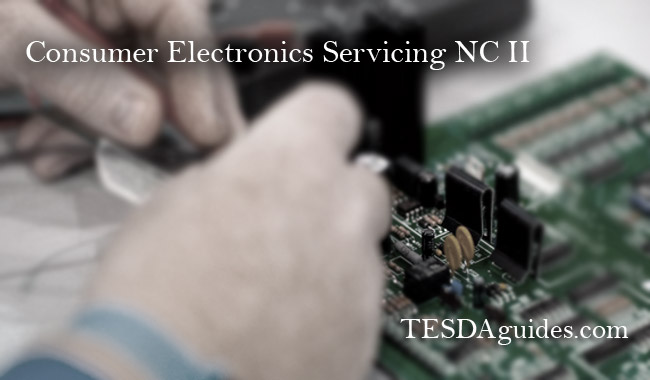 Some core competencies you will learn while in the program are, basic usage of hydraulic, and electrical tools, calculation and mensuration process, basic computer operations, electronic components connection procedure, troubleshooting damaged/ not working PCB components, electronic products assembling and disassembling procedure, PPE usage in your work area.
Course duration (Training time that will be consumed): Consumer Electronics Servicing NCII takes 478 hours to finish.
Requirements to apply as a Course Trainee:
1. Certificate of Birth (NSO copy)
2. 1×1 or 2×2 Photo ID (for record purposes)
3. High School Diploma
4. Police Clearance Certificate
5. Barangay Clearance Certificate
6. Good Moral Character Certificate or Honorable Dismissal
Job opportunities after the Program
Consumer Electronics Servicing NCII assessment passers/ Certified may work in any field related like:
You can find employment as an Audio- Video Service Technician and Appliance Service Technician. Since this training course is one of the in demand and easiest way to find work in Manufacturing Companies you can apply as a Production Operator in PEZA areas.
Some of my colleagues who continued their work as a Production Operator in this field got absorbed as a regular employee, some of them became Line Leader, Supervisor, and some of them took the higher opportunity and work overseas as a Machine Operator in Appliance Manufacturing Company specifically in Japan.