Automotive Mechanical Assembly NC II is one of courses offered by the Technical Education and Skills Development Authority. This Training program will help guide and train yourself in mechanical parts installation procedure.
You will also learn, calculation and mensuration process, proper interpretation of engineering layout/ draft and design, proper work shop maintenance, Power Drive installation procedure, Brake installation procedure, Suspension drive installation procedure, Engine Part assembly procedure, Final Engine run technique and process and also vehicle wheel alignment.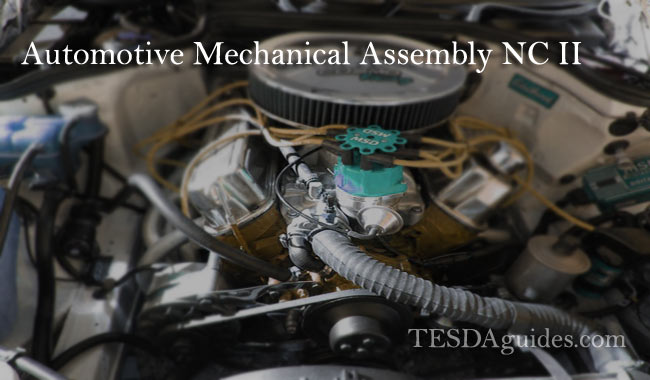 Course duration (Training time that will be consumed): Automotive Mechanical Assembly NCII takes 143 hours to finish.
Requirements to apply as a Course Trainee:
***Certificate of Birth (NSO copy)
***1×1 or 2×2 Photo ID (for record purposes)
***High School Diploma
***Police Clearance Certificate
***Barangay Clearance Certificate
***Good Moral Character Certificate or Honorable Dismissal
*An additional requirements may be required depending in your Training Institute of interest. Please feel free to have a discussion with them for more information.
You may also available the Scholarship program offered by TESDA, they also offer on the job training to help you find work easier and hassle free, it is also additional to your work experience.
Job opportunities after the Program:
Automotive Mechanical Assembly NC II assessment passers/ Certified may work in any field related like:
Qualified trainees may apply as a mechanical assembly technician, maintenance technician, machine operator at any Vehicle manufacturing company here in Philippines and even overseas. You may contact POEA if you are interested to work abroad.
Automotive Mechanical Assembly NC II trainees must take the National Competency assessment exam before receiving the certificate itself.