More than a hundred inmates of Davao City Jail recently completed their vocational courses under the Technical Education and Skills Development Authority (TESDA) last January 22.
One hundred thirty-one City Jail Scholars received certificates for Shielded Metal Arc Welding (SMAW)- National Certificate 2 (NC-2) and Electrical Installation and Maintenance (EIM)-NC2. 81 received completion certificates for SMAW, while 50 received certificates for EIM.
Among the graduates, 113 or 82% are detainees while the remaining 18 are family members of detainees, former inmates who started training before their release and Bureau of Jail and Management Penology (BJMP) personnel.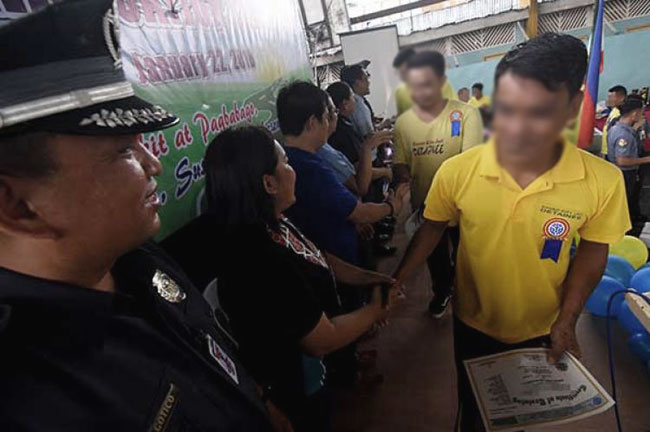 According to TESDA chief specialist Bayani Godofredo, the total number of graduates is composed of combined three batches of SMAW and two batches of EIM.
"The training started July last year. Each course is good for three months (but it was extended). There are some batches that took classes scheduled on weekends," he said.
They took their assessment last year on the third week of December, and are the first to receive the free vocational education from TESDA.
The graduates held a ceremony witnessed by their family members receiving their graduation certificates. The oldest who received certification was a 56-year old detainee.
Graduates were thankful of completing their vocational course and having a diploma despite being incarcerated. Family members also expressed their joy on detainees' new found hope.
Davao City Jail Warden Grace Taculin said most detainees did not expect to attain a diploma inside jail.
"For example, sa electrical installation and maintenance, they need to have at least high school education because they are taught on planning and electrical wiring, so they need to understand well," she said.
Tesda acknowledge the cooperation of TESDA which allotted a total of Php3 million for the education of detainees. Tesda Regional Director Gaspar Gayona has pledged to allot another Php3 million this year for inmates' vocational courses.
"We will add more training courses and increase the number of graduates. We will add courses like food processing, dressmaking," Taculin said.
The training Is open for families of the Persons Deprived of Liberty (PDLs) detainees. Family members can join the training provided to adhere to strict rules and guidelines. They will have the same schedule as the detainees.
They are also looking to hire skilled inmates who completed their courses for future developments inside the jail.