Do you want to learn new skills or have your resume updated? Now you have the chance to do so just using a mobile app. The Technical Education and Skills Development Authority (TESDA) partnered with Bizooku Philippines Inc. and developed a mobile application that citizens can use to learn more about the technical-vocation education and training (TVET) programs offered by the agency.
The app, named TESDA, can be downloaded from Google Play and Apple Store.
Aside from the previously mentioned information, there are also available E-learning video clops from TESDA online program (TOP). Learners can also view the latest news from the agency, list of training programs, frequently asked questions (FAQs), location of registered training centers, and regional and provincial office directory. There is also a tutorial on how to apply for different TESDA scholarships available, and other features like the TESDA Women's Center.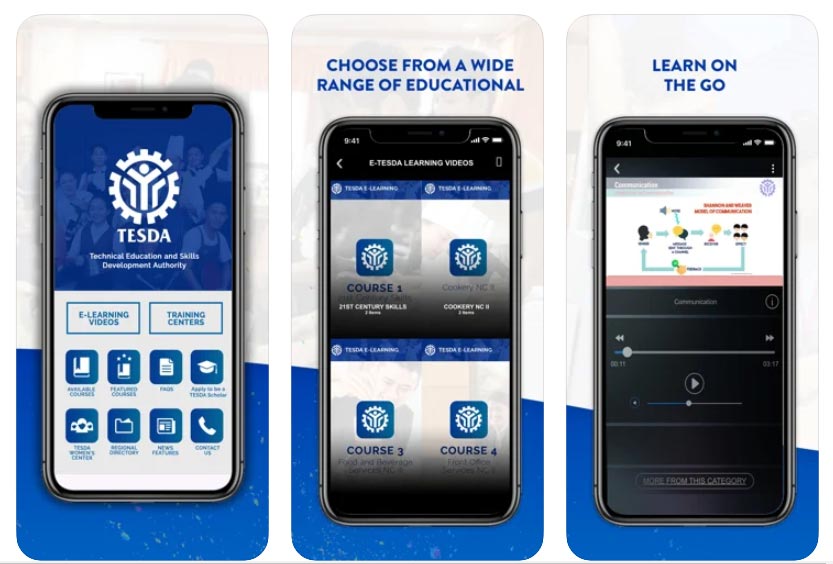 President of Bizooku Philippines inc. Alejandro Chiongbian expressed his gratitude for working with TESDA. "They have a wide range of learning programs and we use our platform to organize the content in the mobile app so it will be easier for Filipinos to discover available courses they might be interested in," Chiongbian said.
Bizooku Philippines Inc. is an affiliate company of US-based Bizooku. They are known for helping clients build different mobile platforms. The newly-launched TESDA app, enables real time app updates, dynamic design, and content changes based on location and schedule.
TESDA Secretary Isidro Lapeña recognizes the importance of extending its services to more Filipinos in a more advanced and modern platform.
"As more and more people rely on their mobile phones for communication and information, the more this TESDA app becomes very timely and relevant. We also want to connect closer to our younger clients, the youth, who are usually online. They will be happy with this mobile app," Lapeña said.
Related: TESDA offers free training for contract tracing with allowance and Pay once hired
This move is timely for a society reliant online when acquiring knowledge and information. Furthermore, it will help empower Filipino workers as they explore more employment opportunities through their newly-acquired skills.
You can download via this link from GooglePlay store and Apple Store
TESDA is not the first government agency to embrace this modernization. The Social Security System, Department of Science and Technology's Philippine Atmospheric, Geophysical and Astronomical Services Administration (DOST-PAGASA) and Philippine Institute of Volcanology and Seismology (PHILVOCS) have all launched their own mobile apps to disseminate information and provide services faster for the Filipinos.
With this new technology, TESDA aims to effectively and conveniently share information and services, and get in touch with mobile users.