Automotive Body Painting/ Finishing NC III is one of courses offered by the Technical Education and Skills Development Authority. This training program will train you on how to repaint pearl type metallic panels, and proper application of color matching. You may also learn the proper application the appropriate adhesive or sealant, proper vehicle positioning, checking vehicle specification theoretically and manually.
Additional knowledge are proper usage of lubricant or coolant, work place maintenance, preparation of work estimate, interpretation of layouts, proper spraying and strategy of a three stage paint, polishing process.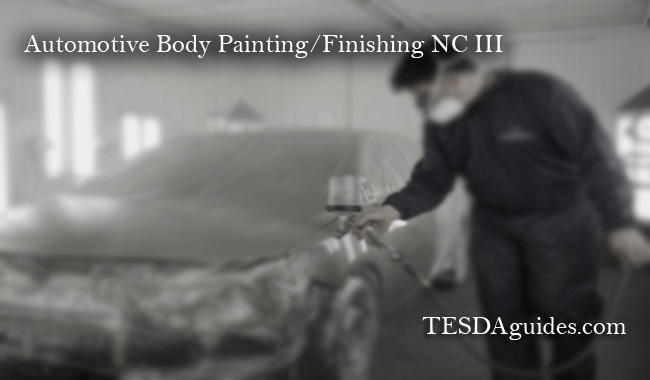 Course duration (Training time that will be consumed): Automotive Body Painting/ Finishing NC III takes 183 hours to finish.
Requirements to apply as a Course Trainee:
1. Certificate of Birth (NSO copy)
2. 1×1 or 2×2 Photo ID (for record purposes)
3. High School Diploma
4. Police Clearance Certificate
5. Barangay Clearance Certificate
6. Good Moral Character Certificate or Honorable Dismissal
*An additional requirements may depend of Training Institutions of your choice. Please do not hesitate to contact your nearest Training Center to know more.
Automotive Body Painting/ Finishing NC II is a requirement for this course based on TVI's requirement (Technical Vocational Institutions).
Job opportunities after the Program:
You can apply as an Automotive Painter, Automotive Paint contractor and automotive body paint finisher, several companies is looking for experienced and TESDA trained applicants to work in their firm.
There are also available job vacancy in abroad, please free to ask a POEA employee for more information. TESDA also offers an OJT program for qualified trainees who passed the assessment., and they will assign a company for you to train yourself.