3D Game Art Development NC III is one of the courses offered by the Technical Education and Skills Development Authority.
You will learn to create Digital 3D Art in the field of video gaming. You will learn some basic competencies like arty style conceptualization and development, storyboard creation and procedure, 3D model development with the usage of 3D structure application, 3D textures development, rigger application to game animation, art document preparation.
Course duration (Training time that will be consumed)
3D Game Art Development NCIII takes 1364 hours to finish.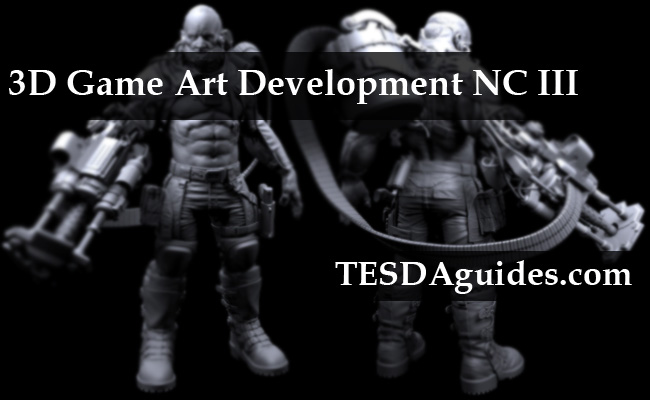 Requirements to apply as a Course Trainee:
Certificate of Birth (NSO copy)
1×1 or 2×2 Photo ID (for record purposes)
High School Diploma
Police Clearance Certificate
Barangay Clearance Certificate
Good Moral Character Certificate or Honorable Dismissal
Job opportunities after the Program
3D Game Art Development NC III assessment passers/ Certified may work in any field related like:
You may apply as a Visual or Graphic artist, modeler, rigger, texture artist and even 3D Game Artist.
Three Dimension related job may find different kind of work anywhere, this innovative way of work requires you to have knowledge in Computer operations or filming technology. 3D Game Artist works in media production to perform activities related to animation.
Employers require their applicants to be flexible since this work needs a wide knowledge in graphic creation and development. You may work in a team or individually depending in your company which you applied in.
They may require you to have a knowledge or degree related in this field but some are just requesting for certification like TESDA will give you after the program.