Performing Arts (Ballroom Dancing) NC II one of courses offered by the Technical Education and Skills Development Authority that aims to let you gain knowledge in the field of basic and standard Latin American dance, figures, techniques and combinations.
You will also learn, workplace and team coordination, teamwork management, lets you practice your talent in professional manner, healthy tips and safety procedures, manage your own talent and performance.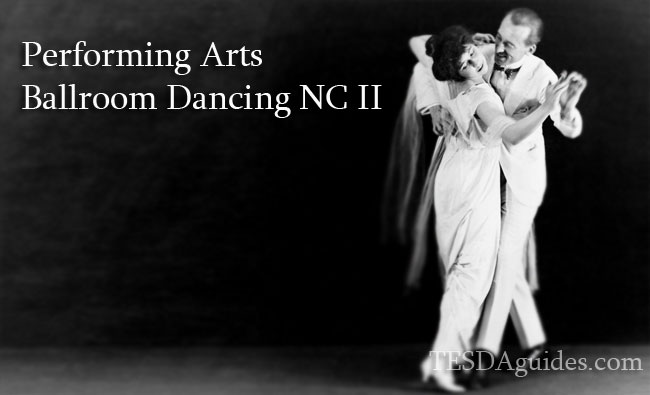 Course duration (Training time that will be consumed):
Performing Arts (Ballroom Dancing) NCII 300 hours to finish
Requirements to apply as a Course Trainee:
*Certificate of Birth (NSO copy)
*Academic Record (High school Diploma)
*Good Moral Character Certificate or Honorable Dismissal
*1×1 or 2×2 Photo ID (for record purposes)
*Basic Dancing Skills
Job opportunities after the Program
Performing Arts (Ballroom Dancing) NCII assessment passers/ Certified may work in any field related like:
*Ballroom Dance instructor, *Dance Instructor, can be applied to fitness instructor; you can have students that are looking for instructors like you, you can teach them Paso doble, Jive, Lindy Hive, Mambo, Quickstep, Rumba, Samba, Cha-cha, Tango and many more. You can also use your training experience to compete national or international. You may also apply in Opera, theater or Dance companies.
Trainees who undergo in the field of Performing Arts (Ballroom Dancing) NCII needs to take an examination before working independently or taking the opportunity to be an employee in the Company that will be assigned for you.
Tip: It is also applicable to work abroad, depending on its demand and availability.